Kyphoplasty
Kyphoplasty is a minimally invasive procedure used to treat painful, progressive vertebral compression fractures. Vertebral compression fractures is a fracture in the body of a vertebra, which causes it to collapse. This causes the spinal column above it to develop an abnormal forward curve. These fractures may be caused by primary or secondary (e.g. steroid-induced) osteoporosis, cancer, or benign lesions. Orthopedic balloons are used to lift the fractured bone and return it to the correct position. Performed under local or general anesthesia, the procedure typically takes less than an hour.
The Technique
The procedure is performed with the patient lying face down on the operating room table and under intravenous sedation. Two x-ray machines are used to show the collapsed bones.
To begin, the surgeon makes two small incisions in the back. A tube is inserted into the center of the vertebral body to the site of the fractured bone. Kyphoplasty involves the use of a device called a balloon tamp to restore the height and shape of the vertebral body. This is followed by application of bone cement to strengthen the vertebra.The balloon tamp is then inserted down the tube and inflated. This pushes the bone back to its normal height and shape.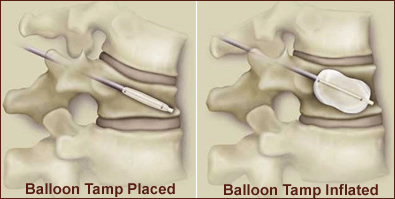 Inflation of the balloon creates a cavity in the vertebral body, which the surgeon fills with bone cement. When the cement hardens, the tubes are removed. The incisions are closed with a single stitch, and patients usually go home the same day.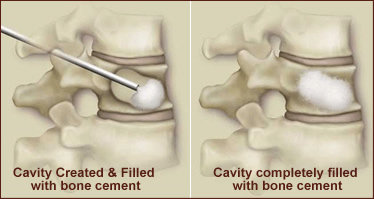 Patients can go back to all normal activities of daily living as soon as possible with no restrictions.
It is recommended that kyphoplasty be performed soon after vertebral compression fracture happens to best restore vertebral body height and size. All patients must take bone strengthening medications during treatment.
To learn more about Kyphoplasty, go to www.Kyphon.com.
Conditions treated include Osteoporosis.